Profile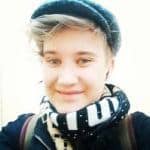 Hannah Little
Curriculum Vitae
Education:

Grangefield School, Stockton-on-Tees (2000-2005), Bede College, Billingham (2005-2007), University of York (2007-2010), University of Edinburgh (2010-2011), Vrije Universiteit Brussel (Free University of Brussels) (2012-2016)

Qualifications:

A-Levels: Maths, Eng. Lang., DT, Film Studeis, BA (Hons) English Language and Linguistics, MSc Evolution of Language and Cognition, PhD in Science

Work History:

After I finished my MSc, I worked for a while at Newcastle College in science outreach and communication working with young people, I then went on to do a PhD at the VUB in Brussels, I worked as a research at the Max Planck Institute for Psycholiguistics in the Netherlands for a year and now I'm a lecturer at the University of the West of England in Bristol. I have also previously worked as a paper girl, a waitress in Morrison's cafe and also a receptionist in a hotel.

Current Job:

Lecturer in Science Commmunication

Employer:

University of the West of England
Favourite thing to do in my job: I love talking about my research with ANYONE WHO WILL LISTEN. But my favourite thing is probably the graph which sums up all my hard work at the end of the scientific process.

About Me

I'm a lecturer at the University of the West of England who works on science communication and language evolution.

Read more

I'm a lecturer at the University of the West of England, but I'm originally from the North East of England. I have two main academic interests: the evolution of language and science communication. For my research in language evolution, I use experimental methods to investigate how cultural transmission affects the emergence of structure in language. In science communication, I specialise in teach on podcasts, online video, citizen science and other online content. I also teach on science and comedy, and sometimes even does some stand-up myself!

As well as communicating about communication, I am interested in promoting public engagement with digital rights and communicating about the problems that occur when policy to protect civil liberties does not keep up with the growth of technology.

I also write for Babel, a magazine aimed at non-specialist readers with an interest in linguistic and language-related issues.

My Work

I am a lecturer, so my primary job is teaching, but I also do some research on science communication and also on the evolution of structure in human speech.

Read more

I teach science communication at foundation, undergraduate and postgraduate levels, specifically focussing on online engagement and digital projects. I teach lectures on podcasts, online video, citizen science and other online content and on science and comedy.

I also do research on science communication and language evolution. At the minute I'm working on a project looking at using ESCAPE ROOMS as a way of teaching people about science. I'm also working on a project investigating the impact of the christmas lectures. I'm really interested in cultural evolution and how information is affected when it gets passed from one person to another.

My Typical Day

On a day to day basis I do a bit of lecturing in Science Communication and I also do research on language evolution.

Read more

I don't really have a "typical" day, but in a week I do a bit of teaching, a bit of writing, a bit of (sometimes a lot of) admin. I go to meetings a lot and discuss teaching and research and student projects. I do a far amount of sleeping and eating in a week and sometimes I even go to the cinema or the pub with friends.

What I'd do with the prize money

I'd start a science/research themed comedy night (Bright Club) in Bristol.

Read more

In the UK, there are many fun events to get the public interested in science and research. One of the main things I miss about life in the UK is the amount of geeky entertainment, whether that be public lectures, museum open nights or themed comedy nights. Don't get me wrong, there's a lot of this in Belgium too, but with 3 official languages, none of which are English, finding an event which I can engage with is quite difficult. Because of this, and since English is the language which nearly the entirety of those working in research share, I would like to start a public engagement initiative for the international community in Belgium (which is huge). I would like to add Belgium to the list of participating countries in FameLab (http://www.famelab.org/international) and would also really enjoy setting up a Bright Club style comedy night (http://en.wikipedia.org/wiki/Bright_Club) with a focus on science.

My Interview

How would you describe yourself in 3 words?

Short, Northern, Enthusiastic

What's the best thing you've ever done in your career?

Go to San Francisco? I dunno, do you mean "best" as in the thing that made the most difference to the world or best as in the thing I enjoyed the most?

What or who inspired you to follow your career?

The thing that got me mad on science was probably the Darwin200 celebrations in 2009 which got me thinking about the biological/cognitive foundations for the language I was studying in the bachelors degree.

What was your favourite subject at school?

Maths (shut up, I was cool, ok?)

What did you want to be after you left school?

A set & prop designer, but A-Level English Language made me want to be a linguist.

Were you ever in trouble at school?

Ohhhh yes.

If you weren't doing this job, what would you choose instead?

A comedian, or a politician, or something else that allows me to be the centre of attention.

Who is your favourite singer or band?

Ben Folds

What's your favourite food?

Halloumi cheese

What is the most fun thing you've done?

Stand-up comedy

If you had 3 wishes for yourself what would they be? - be honest!

I hope to progress human knowledge, even in a tiny way, i hope I never lose sight of where I came from and I hope to inspire my students to great things, no matter where they come from.

Tell us a joke.

I didn't used to believe in synaesthesia, but then I saw scents.
---
---
---